Once upon a time in a land far, far west, there passed a weekend of great Adventure Day Trips.  Divers travelled from far and wide to join in the excitement. The weather gods smiled upon our merry band of divers throughout the weekend and all was well. Plans had been hatched for two adventurous voyages aboard Scubadive West's vessels; Saturday's voyage departing from Cleggan Pier and Sunday's leaving from the dive centre.
Saturday dawned warm but slightly dull. However, this would in no way deter our eager divers as they followed Breffni to Cleggan Pier, where their 'chariot' (namely, the 'Marlin') awaited.
Their first dive was at Friar Island, on a site called Malthoa. Friar Island offers spectacular wall dives, dramatic drop offs and a myriad marine species.  Divers returned to the boat to be greeted by some welcome news; the sea was sufficiently calm to permit a lunchtime landing on High Island, an island that remains notoriously inaccessible for much of the year. Not only this, but those present were to enjoy a talk on the island's extraordinary history. Local archaeologist, Michael Gibbons was amongst our divers and happy to share his wealth of knowledge.  High Island is famed for its 7th century monastic settlement, which remains very much intact on the island's south west side.  Michael also guided our group on a cliff top walk. Gannets, guillemots and a peregrine falcon soared overhead, crisscrossing the island's 80 acres. After an extended surface interval on High Island, divers returned to Friar Island for their second dive. This extensive wall dive was at the very western tip of the  island.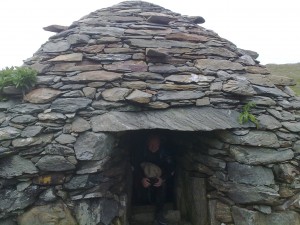 Many of Saturday's divers stayed on for Sunday's Day Trip.  Sunday's Adventure Day Trip departed from the dive centre, and centred around the equally historic Crump Island. Our recently discovered dive site near Crump Island is proving one of our most popular so far. This site offers something for everyone, with an extremely lengthy wall pulsating with marine life. Sunday's divers reported on curious male cuckoo wrasse accompanying them for the entire dive! The surface interval between Sunday's dives took place on Crump Island. Breffni safely landed divers on the island before informing them of the island's early Christian heritage.  Their second dive of the day completed, our divers settled into the five mile journey back to the dive centre. However, this journey was not without excitement, as a pod of dolphins provided an enthusiastic escort!
The immense popularity of our Adventure Day Trips means we will continue to run them throughout the summer months. Our next Adventure Day Trips will take place on the weekend of June 26th & June 27th. Saturday's trip will depart from Cleggan, while Sunday's will depart from Scubadive West. Both trips are charged as per our local boat diving; so €70 for the day's diving, with airfills and gear rental as per our 2010 Price List. Please note that a minimum of Advanced Openwater (or equivalent) certification is required for these trips. Our usual, local boat diving schedule will continue to run over these weekends; with departures at 10am and 2pm from the dive centre. These dives are suitable for anyone from Openwater Diver and upwards.