The Scubadive West 2015 Test Weekend is on 20th & 21st June …. it's just weeks away!   We have a super line up of Scuba Diving Equipment and activities for you to try.
In 2012 we hosted our inaugural SUUNTO Fourth Element Test weekend, it was such a great success that we had them back in 2013 for another great Event. In 2014 they sent us some of their newest FINN LIGHT and FINN FLY kit to try out on our first Island Dive Safari of the season. It went down a treat with the divers as we explored deep walls and underwater canyons around Inishturk, Inishbofin and the Bills Rocks!
We are delighted to announce that for 2015 the SUUNTO guys are coming over again for a full Event at Scubadive West. They are so excited about their new range of high end dive lights, harnesses, backplates, wings and side mount systems that they want you try it all out for free! Celebrate mid-summer with us at this great event on 20th and 21st June 2015.
Each year divers travel from all over the country to try out the very best scuba diving equipment with us. You can look forward to enjoyable shore diving with abundant marine life and good visibility. Explore the 60 footer wreck, with it's purpose built, cool Suunto deco station. There will be exciting boat dives on offer all weekend, visiting our ever popular dive sites including Bird Rock, Thany Beg, Doonee Beacon and The Julia T,  and of course loads of cool Scuba Equipment to try out for free!
Kick start the season while you test dive all of the latest dive lights from FINNLIGHT, the FINNSUB wings, harnesses, backplates, side mount systems from FINNSUB and of course the great range of SUUNTO dive computers!
The FINNSUB Fly 13D Rescue is just one of the many systems offered by the SUUNTO guys, it's possibly the coolest looking one, although I would say that as I bought one of these for myself and dive with it all the time.
The eagerly awaited SUUNTO EON Steel has arrived on the market and will be available for test dives. The SUUNTO guys are bringing loads of these units for you to try out on your boat dives and shore dives with us over the weekend. Also available in great quantities will be their HEL O2, VYPER, VYPER Air and the best selling ZOOP!
All SUUNTO Dive Computers will come with a 5 year warranty, which you only get when you buy from SUUNTO agents like Scubadive West. Just fill out the form with us when you make your purchase.
There will be a great offer of a free wireless transmitter with selected dive computer models.
These new high efficiency LED lights are spectacular, they provide cool white light for 10,00 hours of usage. The beautifully machined aluminium alloy body has a hard eloxal coating to resist damage from impacts. Choose from 750, 1,400 or even 3,00 Lumens of stunning white illumination.
We will have the guys from SUUNTO here again with their full line up of wrist mounted dive computers available to try out on a dive. Last year all the models were popular, from the great value ZOOP to the High Spec. Hel O2, with many people buying their own unit over the weekend here.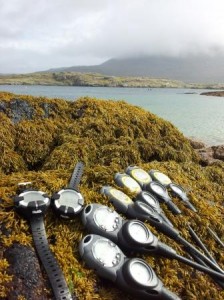 Fourth Element will be here again this year with their Xerotherm and Arctic range of Thermals for you to try out. Also they will have the amazingly flexible Proteus wetsuits, ideal for some snorkelling and Scuba Diving in our private sheltered cove.
Book your places now. just call us at 09543922 or drop us a quick email to [email protected]
Analox Ltd is  a world leader in the design and manufacture of gas sensors and analysers for all branches of the diving industry from sport to military applications. We are very proud to announce that we are agents for Analox Gas Analysers and they will be attending for the test weekend too! They will have their very popular O2EII Nitrox Analyser and Portable O2 Analyser models available here to try out,  also we are looking forward to trying out their new O2EII PRO SCUBA Nitrox Analyser. They will be giving demonstrations, helping with technical questions and they'll also have a free competition, so you may be going home with one of these!
Return to Scubadive West website